While im busy working on projects i thought ide post a little romantic "eye candy" from my favorite room in the house.........I fall in love again and again and again with this room.........so many romantic moments are shared here.
a few of my origional oils.............
Most everything in this room was done by me and my romantic better half. From the painting of the stripes on the walls, the painted furniture, and the hanging of the artwork, all done for the sake of 2 people hopelessly in love with each other........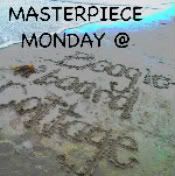 Also joining "The House in the Roses" for Show off ur Cottage Monday, and Carrie at Dittle Dattle for Amaze me Monday. U can find their buttons in my sidebar.