Its Tuesday again, lol. Everyone join me at Kristin's
Hi all, Bonnie here, and look what ive been up to..........

This is where we started from.................
Im almost certain that i'll be painting this table white......

Im oh so tired! Ive been working on too many projects at once. Hubby and i just finished a headboard which i hope to get started upholstering soon. Im doing it in a white shabby chic matelasse. .......but more on that later, this is supposed to be an update on the living room. I finished painting about a month ago, i still have a few projects in here, like painting the new coffee table and some new slipcovers, those are in the works......We put the new drapes up today, and im just beside myself with loving how they look, i got such a bargain on the fabric that was used to make them, $15, Penny hemmed them up really nice.........also got a great bargain on the curtain rod aswell. Hope all of my fellow bloggers enjoy the before and afters.............toodles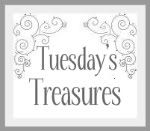 All this material for the drapes was purchased off Craigslist for a mere $15. Enuff for two drape panels and some left to make pillows. Penny fixed someone elses attempt at crudely making drapes, lol.